What is Eddy? Why use it? Here you'll get a general overview of Eddy features and benefits.
So what is Eddy? Well, thanks for asking! Eddy is the hub for HR and employee information in your organization (for existing employees as well as job candidates and new hires). 
Eddy holds info about an organization's employees, as well as prospective employees. For employees the info is usually things like name, contact info, job info, pay, and documents (W4, I9, etc.)
For job candidates the info is usually things like name, resume, and job application, as well as internal info like interview notes, comments, ratings, status, etc.
Why use Eddy?
✅ Get organized online. No more paper, no more spreadsheets and filing cabinets to track employee info.
✅ Save time by automating manual tasks. Use custom stage actions to send automated emails, Gather signatures and do employee onboarding online.
✅ Save money by automatically posting jobs to free job boards and eliminating manual tasks
✅ Hire better employees by creating a great candidate experience, moving quickly on the best candidates, and being free to spend more time interviewing and collaborating on each hire.
✅ Look professional with electronic signatures, custom company career pages, simple candidate application forms, and more.
Eddy Building Blocks
The people
An Eddy Owner creates an Eddy account for an organization. The owner promotes HR Admins to help manage teams or workflows, and they invite company Employees to participate. Hiring Admins post jobs for new positions, and job candidates apply for those jobs. Hiring Managers and Hiring Team Members interview job candidates, Hiring Managers advance candidates through the hiring pipeline and extend job offers to qualified candidates.
Overall the Eddy ecosystem includes the following people:
👩🏽‍💻 Owner
😺 Hiring Admin
🤠 HR Admin
🤖 Hiring Manager
🤔 Hiring Team Member
👥 Employees
🙋 Job Candidates
Employee Directory
The employee directory lists all people in Eddy, with the exception of job candidates. Here you can find any employee (including contractors and recruiters) in your organization.
Employee Profile
The employee profile includes all the information your organization needs to store for an employee, including personal info, emergency contact, job details and history, pay and pay history, notes, signed documents, etc. 
Hiring Home
The hiring home is where a hiring admin can see all job postings--open, draft, and closed. For each job you can see at a glance how many job candidates have applied, and what's the furthest job stage any candidate has advanced to. It's here you can post a new job and create or update your career page.
Careers page
Eddy makes it easy to create a professional-looking career page. Below is a sample career page created with Eddy for the fictional company "Acme Industries Incorporated". You career page is often how you'll make your first impression on a candidate--it's worth it to make the page look good and have great content.
Job Application
Your job posting should be as inviting as possible to prospective candidates. Eddy has created a simple process to add the job description and create the job application template. And of course the job application experience is designed with mobile in mind.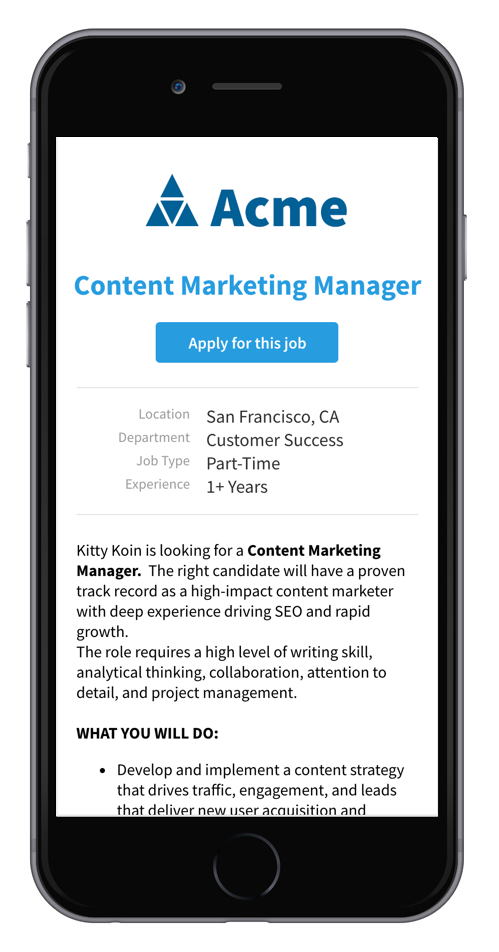 Job Candidates
Your view of job candidates organizes candidates into a job pipeline or funnel. As you advance candidates through (customizable) process of interview steps and stages, you can see at-a-glance how a job is progressing from posted to hired.
Candidate Profile
The candidate profile shows the candidate's application, and all your comments and ratings you and the hiring team have made on the candidate.
Documents Home
Eddy makes it easy to store and organize all your company's HR documents. Employees and new hires can electronically sign any document you add, and a copy of each signed document is added to their employee profile in Eddy. Learn more.